How to edit objects¶
Let's assume you have located an object you are responsible for to keep up to date, and that you to edit it to reflect a change.

If you wish to modify an object, you can either click on the object to edit it directly (for certain objects), other objects have what StoredSafe calls a "Workbench", which will turn up if you click on the object name.

If the object has a "Workbench" area, you will be able to
Attach an arbitrary note to the object (Click on the "Notes" tab)
Preview the object (relevant for users of File StoredSafe) (Click on the "Preview" tab)
Attach any sub item to the object, which could be just about any object within the system (Click on the "New subitem" button)
And you will also be able to edit the current object, if you press the "Edit item" button.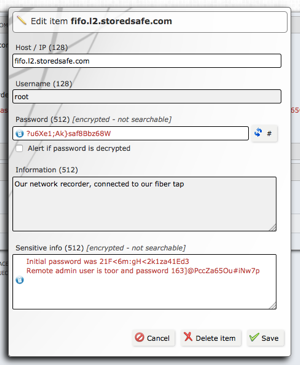 Simply edit the desired field (or fields), press "Save" when done or press "Cancel" to cancel the update.